Comfort-Truss Hernia Support Belt Single Side
$39.99
Comfortable, minimalist hernia support belt for inguinal hernia on either the right or left side.
If you are in between sizes, lean toward the smaller size as the fabric will stretch out a bit over time. 
View Our Return Policy | Orders placed before 11am Eastern Ship the Same Day! (Mon-Fri)
Bulk Discounts on Any Style and Size Combination!
| | | | |
| --- | --- | --- | --- |
| 1 | 2 | 3-5 | 6+ |
| -0% | -10% | -17% | -25% |
Description
Additional information
Interchangeable Pads
Description
The Comfort-Truss Single Side Hernia Support Belt is designed to be a super comfortable, flat pad hernia truss that is a low profile option to the big, bulky and uncomfortable hernia belts on the market. Designed for people with active lifestyles that suffer from a reducible inguinal hernia on either the right or left side. Get your life back! Get back in the action with the Comfort-Truss Single Side Hernia Support Belt.
What makes it so comfortable?
Super Flexible Nylon Lined Breathable Neoprene
Slim 3mm fabric is slim fitting and does not bulge your clothes out
Leg Strap is not so thick to feel bulky, but not thin enough to dig into the skin
Flat pad does not dig in to the hernia site but supplies ample hernia support
Who Uses Comfort-Truss Single  Hernia Support Belt?
The comfort-truss can be worn in or out of the water on the left or right side for a reducible inguinal hernia. Great for men and women to use during any physical activity or for general hernia management.
Take a moment to read our excellent hernia belt reviews! Your search for a hernia belt that you can actually wear all day stops here.
Additional information
| | |
| --- | --- |
| Weight | .09 lbs |
| Dimensions | 4 × 4 × 1 in |
| Size | Small, Medium, Large, X-Large |
| What side is your hernia on? | Left, Right, Both |
Comfort-Truss Version 2.0 is equipped with an open top pocket which allows the 1/4″ pad which comes stock in the belt to be swapped out with thicker pad sizes. We have 3/8″ and 1/2″ thick pads available for purchase.
Customer Reviews
12/10/2019
Anonymous
US
10/01/2019
Cody W.
US
Its perfect!
This is the most amazing product! I would consider this a miracle. After 7 years, recent plans to get surgery fell through and I took to YouTube for answers. George's videos are great so if you haven't watched them do so. After watching, I purchased the truss and received it in a few days. It was right in time as I attended not 1 but 2 live concerts in 1 week. I put this belt to the test; standing for hours, walking, taking a road trip, etc. I never had a problem and didn't hardly notice it was even under my clothes. For perspective - prior to the comfort truss I couldn't make through the grocery store without having a borderline hernia emergency. A real testiment to the American entrepreneur! Thank you for making this product. Side note - if you're worried about how it will look, don't be. I wish it came in different colors but black is cool. My hope is that it helps me heal up, not just live with the ailment. Either way it's a win!
09/22/2019
Tom M.
US
Running a marathon with Comfort-Truss
Love the product, trying to up load a video
Best. Truss. EVER!
LOVE! This product! First off; Insanely comfortable. Let's you move freely and still has all the support you could possibly need. I wear it 16+ hours a day and I don't even know it's there. Second; CHEAP! $40!? I paid $65 for a set of briefs that didn't breath at all. Hugged everything so tight it gave me cramps (no joke). I also love the new pocket feature. Let's you choose the level of support with different pads. My hernia is so bad now that I NEED surgery but this truss has helped me work through 72 hour weeks at the quarry all summer. I've put this thing to the test and it excelled! Even after my surgery I will still wear this truss for a long time. All in all, if You're debating on buying this product, DON'T! Just do it, you won't regret it. You're the man George, keep up the great work. Thank you sir for giving me my life back!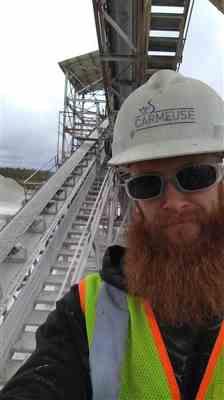 Life Changing
I never ever write reviews, but absolutely had to write one for this. I am 40 years old and very active. I workout and run almost everyday. I have bought several truss belts and they were okay but are mostly made for people that are not very active I guess. all the belts were very ridged heavy and hurt to wear all day. also they moved around so I had to keep adjusting them all day. This truss is exactly what I needed. I can wear this all day and feel great plus feel very protected. I don't want to have surgery anytime soon or ever so this really help me live an active life style and not worry about a ridiculise truss. This truss is very comfortable and works very well pushing the bulge back into place without hurting your junk. I love the way the straps work as well. You can make it as tight as you want. I wear them super tight when working out or running. I really appreciate the people that took time and wrote great reviews. It really helped me with the purchase and getting the correct size. For me I got the small and it fits perfectly. I have a size 28 waist and weight 190 pounds. I am definitely going to order a few more. I think the price is very reasonable, as I have paid over 100 bucks for other terrible truss. ALso the shipping was very fast. The entire experience was excellent.